Once the concrete shell is installed, the plumbing can be installed. This can often be done at the same time as the Stage 5 Coping and Tiling, or sometimes after. This will not effect the finished product and is scheduled to best suit your project.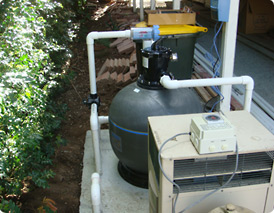 Filtration
There are three types of pool filters: cartridge, sand and diatomaceous earth (D.E.). Each of these filters have advantages and disadvantages, so it is important to have some understanding of this to make your choice of preferred system.
Cartridge Filters:
Cartridge filters are the most simple and least expensive of pool filters. They are basically just a big fabric element like a car aircleaner. These filters are reasonably efficient as water filters, however they need the most work to maintain as they need to be pulled apart and hosed out. To reduce this maintenance, a filter that is oversized by a factor of 4 would be suitable. Customers who are on tank water may prefer a cartridge filter as there is no backwashing involved.
Sand Filters:
Sand filters are the most common type of filter in south east Queensland as they are by far the simplest and easiest to maintain, by simply turning a lever to backwash. Many people do not understand that these filters are also the least efficient, so more care is required with chemistry. The regular use of clarifier or water polish is recommended.
Earth Filters (D.E.):
D.E. filters use a very fine powder as their filter medium making them the most effective of all filter types (about six times finer than a sand filter). This will result in crystal clear water even through the summer heat waves. Unfortunately they are the second most difficult to maintain and the most expensive to maintain. This is somewhat offset by a saving in pool chemicals.
Chlorinators and Chemical Balancers
Most pools require chlorine to kill bacteria as well as acid to lower ph to a level where chlorine is effective. Exceptions to this are ozone pools which are generally not viable in domestic situations. The two common systems are salt chlorinators and chemical feeders like a "Chemigem".
Salt Chlorinators:
Salt chlorination is the process of manufacturing chlorine by electrolysis from salt. This is the most common way of chemically treating backyard pools in S.E. Queensland. Because of popularity, salt chlorinators are manufactured in large volumes making them quite inexpensive to buy and operate. These days, most salt chlorinators are self cleaning, removing the chore of cleaning the white build-up off their cell. Acid needs to be added by hand to control PH.

Chemical Feeders ( "Chemigem"):
Chemigem is one brand of chemical feeder. Typically, chemical feeders electronically measure chlorine and PH levels in your pool and automatically add chlorine and acid as required. This ensures more pure water with a more perfect water balance. Unfortunately, these machines are more expensive to install and maintain.
Handy Hint: We are happy to help you with the selection of your plumbing and filtration as it is important to select materials that suit your pool's conditions, your budget, and the longevity of your pool. We have years of experience in working with the different products over time.